RH-DO500
Formation en ligne
Durée 5 jours
Prix
(Hors Taxe)
Classroom training
Durée 5 jours
Prix
(Hors Taxe)
France:

5 500,- €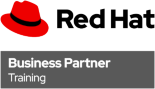 DevOps Culture and Practice Enablement (DO500)
Detailed Course Outline
What is DevOps?
Brainstorm and explore what principles, practices, and cultural elements make up a DevOps model for software design and development.
Pairing and mobbing
Discuss and experience two foundational practices: pair programming and mob programming.
Retrospectives, information radiators, and team sentiment
Examine the value of conducting retrospectives, visualizing work, and assessing team sentiment.
Impact mapping
Discuss the impact mapping discovery practice.
Agile practices
Cover agile practices, including sprint planning, daily stand-up, showcase, retrospective, and backlog refinement
Value stream and process mapping
Delve into the practices of value stream mapping and metricbased process mapping.
Continuous integration, deployment, and delivery
Explore the foundational practices of continuous integration, continuous deployment, and continuous delivery.
Event storming
Learn how to use the event storming discovery practice.
User story mapping and value slicing
Examine the user story mapping, value slicing, and empathy mapping practices.
Automated testing, part 1
Develop an understanding of the test-driven development and business-driven development foundational practices, often referred to as automated testing.
Automated testing, part 2
Complete the automated testing lab begun in part 1.
Pipelines as code
Explore continuous integration/continuous delivery pipelines using Jenkins
Non-functional testing
Discover the merits of non-functional testing.
Build monitoring
Understand how to monitor builds and graphically represent their status as an information radiator.
Demo day
Experiment with the optimal methods of producing a showcase and bring the class to a close