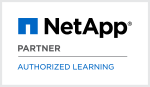 ONTAP Administration: What's New in ONTAP 9.1 (ADMIN91)
A qui s'adresse cette formation
NetApp employees and partners
Pré-requis
A working knowledge of ONTAP 9 is required.
Objectifs
In this course you will learn about the new features that are included in the ONTAP 9.1 Data Management Software release. You also configure many of these features with hands-on exercises using a lab environment that will be provided to you. This course is meant to update those that have taken the current Clustered Data ONTAP 8.3 administration courses or the ONTAP Administration: What's New in ONTAP 9 course.
Contenu
This course focuses on enabling you to do the following:
List the new features included in the ONTAP 9.1 release
Identify the different ONTAP 9.1 deployment options
Identify feature enhancements to the FAS, All Flash FAS, and OnCommand software
Configure encrypted volumes using NetApp Volume Encryption (NVE) and massively scalable containers using FlexGroup volumes
pointer une ville pour s'enregistrer
Agenda
France
Actuellement pas de date de disponible For enquiries please write to info@flane.fr.
FLEX Training
Please see below our alternative, English language, FLEX course option.
Formation en mode FLEX™.