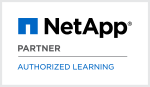 Creating and Customizing Workflows Using OnCommand Workflow Automation (CCWWFA)
A qui s'adresse cette formation
NetApp customers
System Engineers
Application Engineers
Pré-requis
Working knowledge of clustered Data ONTAP
Objectifs
By the end of this course, you will be able to:
Configure OnCommand WFA
Describe OnCommand WFA design components
Create workflows
Customize workflows
Create building blocks
List Representational State Transfer (REST) API tasks and support resources
Explore the NetApp PowerShell Toolkit
Contenu
Creating and Customizing Workflows Using OnCommand Workflow Automation is a 2 day instructor led course that teaches you how to create and customize workflows to meet your organizational storage requirements by showing you how to create commands, finders, data sources, and functions. You will also learn about the NetApp PowerShell Toolkit and how it integrates with OnCommand WFA.

Module 1: Introduction to OnCommand Workflow Automation
Overview of the OnCommand management portfolio
Benefits of using OnCommand WFA
Understand OnCommanad WFA
Elements of a workflow
WFA system architecture
Ports and services
Module 2: Configuring OnCommand Workflow Automation
WFA Interfaces
Operator portal
Administration menu
Configure data sources
Configure the credentials of a target system
Create users
Assign categories to operators
Module 3: Building Blocks and Workflow Enablers
Designer tab building blocks

Dictionary entries
Commands
Filters
Finders
Functions
Templates

Designer tab workflow enablers

Cache queries
Data source types
WFA content types
Module 4: Designing and Running Workflows
Workflow design recommendations
Naming Conventions
Creating a workflow
Creating a clustered data ONTAP volume
Workflow execution
Modular workflow
Module 5: Refining Your Workflow
Type of user inputs
Modify user inputs
Reservations
Define constants
Define return parameters
Assign a workflow to a category
Module 6: Customizing Workflows
Approval points
Execution
Repeated rows
Adding row repetitions
Incremental naming
Adding functionality
Conditional execution
Module 7: Creating Building Blocks
Create a template
Apply the template
Create a filter
Customizing a finder
Create a function
Create a command
Parameter definition
Create a custom data source
Module 8: Representational State Transfer APIs and Support Resources
RESTful interfaces
REST APIs
Storage automation store
Module 9: Windows PowerShell and the NetApp PowerShell Toolkit
Install and configure the NetApp PowerShell Toolkit
Describe how WFA integrates with the PowerShell Toolkit
Features of Windows PowerShell using Data ONTAP Toolkit cmdlets
Appendix A: Regular Expressions
Define search pattern
Data accept and reject
Character class
Appendix B: SQL Basics
Statements
Operators and functions
Query examples
Appendix C: Entity Versioning
Features
Versioning for building blocks
Feature of WFA
Impact of versioning on imported entity
Appendix D: Sample Command: Create and Configure an SVM
Labs:
Configure data sources and credentials
Add users to OnCommand WFA
Design and run workflows
Modify user inputs
Add approval points
Loop workflow commands
Create templates and filters, customize finders and add commands to a workflow
Create functions and commands
Create a data source
Use Windows PowerShell and the NetApp PowerShell Toolkit
pointer une ville pour s'enregistrer
Agenda
Formation confirmée sous réserve d'une personne supplémentaire.
Cours en ligne avec instructeur
Formation en mode FLEX™.