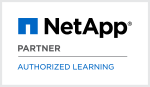 Implementing VMware vSphere on Data ONTAP (IMPVMVS)
A qui s'adresse cette formation
NetApp employees, channel partners, and customers
Pré-requis
The following training classes or equivalent knowledge are recommended:
Objectifs
By the end of this course, you should be able to:
Describe the VMware vSphere 6.0 virtualization solution
Articulate the NetApp value proposition for integrating clustered Data ONTAP with vSphere 6.0
Configure physical and virtual infrastructures
Use the clustered Data ONTAP operating system to provision virtual infrastructure
Create, migrate, and clone virtual machines
Describe the Virtual Volumes datastore-management process
Protect virtual infrastructure
Monitor and optimize virtual infrastructure
Describe best practice for connectivity, provisioning, data layout, and multipathing
Describe how deduplication, compression, and thin provisioning provide storage savings in a virtual environment
Contenu
Implementing VMware vSphere on Data ONTAP (IMPVMVS) is a 3 day instructor led course where you will learn how to protect the virtual infrastructure in SAN and NAS environments as well learning how to manage storage at the virtual-machine level.
Updated features:
VMware vSphere 6
Virtual Storage console,
Virtual Volumes (VVOLs)
Knowledge Byte demo videos
Module 1: Overview of VMware vSphere
VMware Hypervisor architecture
Datastores
vSphere components
NetApp virtualization components
Data storage virtual machines
Data LIFs
Module 2: Introduction to the Virtual Storage Console Plug-In
vCenter Installation components and options
vCenter server deployment architecture 6.0
Virtual Storage Console (VSC) overview
VSC installation
VMware vSphere APE for Storage Awareness (VASA) overview
VASA installation guidelines
Module 3: NAS (NFS) Considerations
VMware vSphere networking concepts
Clustered Data ONTAP networking
Networking best practices and recommendations
NAS (NFS) datastores
Export policies and best practices
NAS LIF best practices
VAAI Plug-in
NFSv3 and NFSv4 differences
Module 4: SAN Considerations
SAN storage virtualization – FC and iSCSI
vSphere SAN network modeling
ESX network design for IP storage
Clustered Data ONTAP SAN implementation
Configure FC in vSphere
VM Kernel pluggable storage architecture
Configure iSCSI in vSphere
iSCSI implementation
SAN datastores
Clustered Data ONTAP LUN implementation
Module 5: Configuration of vCenter and VSC
VSC role-based access-control
VSC datastore-provisioning functionality
Migrating virtual machines
vCenter converter
Cloning virtual machines
Datastores cloning
Virtualized environment alignment issues
Module 6: Configuation of vSphere Virtual Volumes Datastores
Virtual volumes framework
VVol advantages and concepts
Protocol endpoints
VASA provider overview and implementation
Virtual machine storage policies
VVol management
Data ONTAP 8.3 on-demand functionality
Module 7: Advanced Storage Technologies
VMFS datastore optimization: deduplication and thin-provisioning
VMFS optimization best practice
NFS datastore optimization and best practices
VM optimization
Storage QoS
Storage I/O control
VMware storage distributed resource scheduler
Module 8: vSphere Data Protection
Virtual machine backup and restore
SnapMirror disaster recovery for virtual machines
VMware vCenter site recovery manager
SnapCenter integration
Snap creator framework
MetroCluster
Module 9: Virtualization management in cloud environments
NetApp Alta Vault cloud integrated storage
OnCommand WFA 3.0
OnCommand Shift overview
OnCommand Shift deployment
Labs:
Create a vSphere datacenter
Add ESXi hosts to the datacenter
Install VSC on a Windows Server
Deploy the NetApp VASA Provider in an ESXi host
Register the NetApp VASA Provider with VSC
Set virtual machine (VM) start-up and shutdown options for the NetApp VASA Provider
Create a virtual machine (VM) kernel port group in vSphere for IP storage access
Configure a storage virtual machine (SVM) to support ESXi host datastores
Configure the iSCSI service on a storage virtual machine (SVM)
Create two virtual machine (VM) kernel port groups in vSphere, for iSCSI storage access
Configure iSCSI on an ESXi host
Use the NetApp Virtual Storage Console software client plug-in (VSC) to provision storage for a SAN Datastore
Add a virtual machine (VM) to a datastore
Use VSC to resize a datastore
Import a VM into a datastore
Create Storage Capability Profiles (SCPs)
Use the datastore provisioning wizard to create a NAS-backed Virtual Volumes datastore
Use the datastore provisioning wizard to create a SAN-backed Virtual Volumes datastore
Verify deduplication on a datastore
Isolate a virtual machine (VM) workload (LUN) by associating the workload with a Storage QoS policy group
Isolate a virtual machine (VM) workload (.vmdk file) by associating the workload with a Storage QoS policy group
Use VSC to create a backup job for a datastore
Use VSC to restore a VM
Delete a backup
Configure OnCommand Shift server
Migrate a VM from vSphere to Hyper-V
Migrate a VM from Hyper-V to vSphere
(Optional) Install and configure OnCommand Shift
Classroom training
Durée 3 jours
Prix
(Hors Taxe)
France:

2 700,- €

NetApp Training Units:

36 NTU
Dates et Inscription
pointer une ville pour s'enregistrer
Agenda
FLEX Training
Please see below our alternative, English language, FLEX course option.
26.08. - 28.08.2019
FLEX training
This is an Anglais language FLEX course.


Fuseau horaire: Europe/Ljubljana
07.10. - 09.10.2019
FLEX training
This is an Anglais language FLEX course.


Fuseau horaire: Europe/Bratislava
Formation en mode FLEX™.