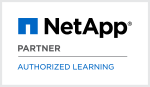 Integrating Hybrid Clouds with NetApp Data Fabric (INTHCDF)
Course Overview
This course familiarizes you with NetApp hybrid cloud, Microsoft Azure and Amazon Web Services (AWS) solutions and shows you how to weave the solutions into the Data Fabric powered by NetApp. In numerous hands-on exercises, you use NetApp and third-party tools to practice how to manage, move and protect data throughout the cloud.
A qui s'adresse cette formation
NetApp Employees, Partners and Customers
Certifications
Cette formation fait partie de la certification:
Pré-requis
Basic computer networking knowledge
Objectifs
Explain the value of the Data Fabric and NetApp Private Storage for Cloud (NPS for Cloud)
Describe NetApp Private Storage (NPS) networking requirements
Deploy a hybrid cloud for customers
Configure an Amazon Virtual Private Cloud environment and an Azure Virtual Network environment for the hybrid cloud
Use PowerShell in a Data Fabric environment and extend customers' Microsoft Active Directory into the cloud
Explain the features of NetApp ONTAP Cloud software and NetApp ONTAP Select software
Use OnCommand Cloud Manager to deploy ONTAP Cloud instances and to create SnapMirror relationships between ONTAP Cloud software and data center clusters
Deploy a NetApp AltaVault appliance with Amazon Simple Storage Service (Amazon S3) buckets in AWS as backend storage
Use an AltaVault appliance to migrate data between AWS and Azure
Use the Data Fabric Solution for Cloud Backup to restore data
Use the Cloud Sync service to synchronize NFS data between on-premises storage and cloud-based storage
Follow On Courses
Contenu
Module 1: Data Fabric Overview
Data Fabric solution vision and value
Compute and storage in the hybrid cloud
Data fabric deployment
NetApp Private Storage (NPS)
Data Fabric use cases
Module 2: Networking for the Hybrid Cloud
NPS networking architecture
Best practices to implement networking
Switch configurations for Layer 3 environment
Module3: AWS Virtual Private Cloud and Connectivity
AWS regions and availability zones
VPC
Security groups
AWS storage
VPN connectivity options
Module 4: Azure Virtual Network and Connectivity
Azure geographies and regions
VNet
Azure storage types
AWS features vs Azure features
Module 5: Design and Implement Data Fabric Solutions
Oncommand Cloud Manager
ONTAP Cloud Software
Use cases and references
AltaVault cloud backup and archive
AltaVault integration with Amazon Snowball
Data Fabric solution for cloud backup
AltaVault security
Cloud agility
ONTAP Select software
Advantages
vNAS for VMware vSAN
ONTAP Select deployment
NetApp Hybrid Cloud Labs
Managing the Data Fabric
OnCommand Management portfolio
Addendum: Operationalize NPS

How to operationalize NPS for cloud
Data layout
Latency
Module 6: NetApp Cloud Sync Service
Module 7: Data Fabric Solution for Cloud Backup
Overview
Architecture
Features
StorageGRID Webscale software
Deployment options
SnapCenter Software
Labs:
Minilabs for AWS and Azure
Prepare jump host for PowerShell and CLI
Configure AWS VPC resources
Operationalize on-premises to cloud connectivity
Configure Azure VNet to on-premises VPN connectivity
Use Cloud Manager to deploy ONTAP Cloud
Manage the Data Fabric workflow
Configure AltaVault
Test AltaVault cloud agility
Reinforce skills with Cloud Sync service
Classroom training
Durée 3 jours
Prix
(Hors Taxe)
France:

3 950,- €

NetApp Training Units:

48 NTU
Dates et Inscription
pointer une ville pour s'enregistrer
Agenda
Fast Lane s'engage à mettre en œuvre les formations garanties quelque soit le nombre de participants, en dehors des cas de force majeurs ou d'événements exceptionnels, comme un accident ou un maladie de l'instructeur.
Formation confirmée sous réserve d'une personne supplémentaire.
Cours en ligne avec instructeur
Formation en mode FLEX™.