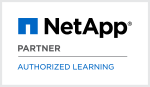 Implementing Oracle on NetApp Storage Systems (ORONSS)
A qui s'adresse cette formation
Anyone familiar with Oracle database servers and NetApp storage systems is considered a typical student of this course.
Pré-requis
Architecting Oracle on NetApp Storage (WBT)
Data ONTAP Cluster-Mode Fundamentals (WBT)
Objectifs
By the end of this course, you should be able to:
Describe key customer problems attending Oracle solutions and the advantages of implementing Oracle solutions on NetApp technology to solve these problems
Describe key architecture decisions for planning the deployment of Oracle on NetApp storage systems operating in Data ONTAP 7-Mode or clustered Data ONTAP
Set up NetApp clustered Data ONTAP storage systems for Oracle databases
Install, configure and set up Oracle servers and Oracle databases on NetApp clustered Data ONTAP storage systems
Use NetApp technology for Oracle database backup, recovery, and cloning operations
Contenu
This course provides instruction and hands-on practice to help you to learn how to implement an Oracle Database solution in a NetApp clustered Data ONTAP storage environment. In this class you practice discovering, planning, designing and provisioning an Oracle environment; install and configure an Oracle server; create an Oracle database; and use NetApp data management solutions to backup and restore your Oracle database.
Module 1 Implementing Oracle on NetApp Storage Systems Overview
Describe components of Oracle databases
Describe key issues that are often experienced with Oracle deployments
Describe the advantages of implementing Oracle solutions on NetApp technology
Module 2 Designing and Planning an Oracle Implementation
Describe key design considerations for an Oracle deployment on NetApp storage systems
Create the storage design to implement Oracle databases on NetApp storage systems
Module 3 Setting Up NetApp Storage Systems of Oracle Databases
Configure clustered Data ONTAP network interface groups, logical interfaces (LIFs), and interface failover
Configure clustered Data ONTAP virtual storage servers (Vservers)
Provision storage for a Vserver
Access a Data ONTAP cluster
Configure export policies
Implement and validate a storage design on the clustered Data ONTAP operating system
Module 4 Installing an Oracle Server and Oracle Databases
Describe requirements and prerequisites for installing an Oracle server and databases
Install an Oracle database
Module 5 Oracle dNFS and NetApp Storage
Enable direct NFS (dNFS) for an Oracle database
Explain what dNFS is and how it differs from kernel Network File Systems (kNFS)
List the database objects that show you the dNFS database traffic
Configure multiple paths for dNFS
Module 6 Using Oracle ASM with NetApp Storage
Define Automatic Storage Management (ASM) for an Oracle database on NetApp storage
Define the Oracle ASM Library (ASMLib)
Describe how to install and configure ASM and ASMLib to provision and configure storage and LUNs
Create an ASM database
Use ASM to create an application database
Module 7 Backup and Recovery Methods for Oracle
Describe specific storage design requirements for the backup and recovery of Oracle databases
Back up and recover an Oracle database by using SnapManager for Oracle (SMO)
Back up and recover an Oracle database by using Snap Creator Framework
Module 8 Cloning Oracle Databases
Describe use cases for cloning Oracle databases
Identify the components that are needed for a clone creation
Identify which objects to clone
Use NetApp SnapManager for Oracle (SMO) to clone an Oracle database
Module 9 Disaster Recovery for Oracle Databases
Describe disaster recovery plans and issues for Oracle databases
Describe NetApp SnapMirror technology for Oracle databases
Describe a SnapMirror disaster recovery scenario
Implement recovery options
Leverage Oracle Data Guard when implementing Oracle on NetApp storage
Lab Exercises Lab 1-1 Use login credentials for the Linux host
Lab 1-2 Verify the necessary file systems
Lab 1-3 Verify that initial databases are available
Lab 1-4 Identify NetApp cluster components
Lab 2-1 Identify the components of the Oracle database
Lab 2-2 Describe the use case that is associated with the storage design
Lab 3-1 Log in to cluster1_01 VSIM
Lab 3-2 Create a Vserver
Lab 3-3 Modify the Vserver to enable the NFS protocol, assign the default aggregates and add the appropriate DNS
Lab 3-4 Add the appropriate LIFS for your Vserver
Lab 3-5 Define the export policy for the Vserver
Lab 3-6 Modify the Vserver vsadmin user
Lab 3-7 Provision storage on the Vserver for the Oracle database server
Lab 4-1 Validate and prepare parameters for the Linux host
Lab 4-2 Validate and prepare parameters for the Data ONTAP host
Lab 4-3 Define the file systems for the Oracle database
Lab 4-4 Create an Oracle database
Lab 5-1 Enable dNFS for an Oracle database
Lab 5-2 Verify that the database is using dNFS
Lab 5-3 Disable dNFS for a database (optional)
Lab 6-1 Create a Vserver
Lab 6-2 Modify the Vserver to enable iSCSI protocol, assign the default aggregates and add the appropriate DNS information
Lab 6-3 Add the appropriate LIFs for your Vserver
Lab 6-4 Create groups, create users, and modify the Vserver vsadmin user
Lab 6-5 Start the iSCSI service for this Vserver
Lab 6-6 Provision storage for the database
Lab 6-7 Configure and validate iSCSI service on the Linux host
Lab 6-8 Prepare the Linux host for Device Mapper and discovery of LUNs
Lab 6-9 Start the Oracle Grid Infrastructure
Lab 6-10 Prepare the LUNs on the Linux host for use by ASM
Lab 6-11 Create ASM disk groups with iSCSI LUNs
Lab 6-12 Create the oraiscsi database through DBCA
Lab 6-13 Move the clustered Data ONTAP operating system and LUNs
Lab 7-1 Start the grid infrastructure
Lab 7-2 Install SnapDrive for UNIX
Lab 7-3 Install and configure SMO
Lab 7-4 Configure a SMO repository
Lab 7-5 Create an SMO profile for oraclass
Lab7-6 Create an SMO backup for oraclass
Lab 7-7 Restore an Oracle database
Lab 7-8 Install Snap Creator Framework for Oracle database servers
Lab 7-9 Set up the Snap Creator configuration file to back up your database
Lab 7-10 Restore the Oracle database using Snap Creator Framework
Lab 8-1 Create a SMO profile for oraclass
Lab 8-2 Delete a clone
Lab 8-3 Define the Snap Creator configuration for a clone workflow
Lab 8-4 Prepare a host for the new cloned database
Lab 8-5 Configure the Oracle database using Snap Creator Framework