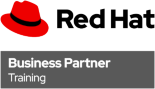 Red Hat Certified Engineer Exam (RHCE) (EX300)
The RHCE exam is a hands-on, practical exam that lasts 2.0 hours. Candidates are eligible to take the RHCE exam without first having passed the RHCSA exam, but RHCE will not be issued until both credentials are earned by a candidate.
A qui s'adresse cette formation
Professionnels Linux expérimentés titulaires d'une certification RHCSA et désireux d'obtenir une certification RHCE
Administrateurs système Red Hat Enterprise Linux expérimentés désireux de valider leurs compétences
Étudiants ayant suivi les cours de formation suivants : Red Hat System Administration (Administrateur système Red Hat) I, II et III ou RHCE Rapid Track (Cours accéléré pour devenir RHCE)
Administrateurs système Linux expérimentés dont l'employeur exige une certification ou en mission (directive DOD 8570)
Titulaire d'une certification RHCE qui a expiré et ayant déjà réussi l'examen RHCSA
Certifications
Cette formation fait partie de la certification:
Pré-requis
RHCE Rapid Track Course (Cours accéléré pour devenir RHCE), System Administration (Administration système) I, II, III ou expérience équivalente
Expérience concrète d'administration système
Objectifs
L'examen de certification Red Hat® Certified Engineer (EX300) est basé sur les performances et teste les connaissances, les compétences et les capacités du candidat en tant qu'administrateur système confirmé Red Hat Enterprise Linux®. Tout candidat à une certification RHCE® doit être certifié administrateur système Red Hat (RHCSA) au préalable.
Formation en ligne
Durée 4 heures
Prix
(Hors Taxe)
Classroom training
Durée 4 heures
Prix
(Hors Taxe)
Actuellement aucune session planifiée Demande de date