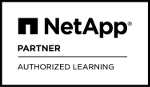 ONTAP Compliance Solution Administration (OCSA)
Moyens Pédagogiques :
Réalisation de la formation par un formateur agréé par l'éditeur
Formation réalisable en présentiel ou en distanciel
Mise à disposition de labs distants/plateforme de lab pour chacun des participants (si applicable à la formation)
Distribution de supports de cours officiels en langue anglaise pour chacun des participants

Il est nécessaire d'avoir une connaissance de l'anglais technique écrit pour la compréhension des supports de cours

Accessibilité aux Personnes en Situation de Handicap – nous contacter
Moyens d'évaluation :
Évaluations formatives pendant la formation, à travers les travaux pratiques réalisés sur les labs à l'issue de chaque module
Évaluation sous forme de questionnaire à l'issue de la formation
A qui s'adresse cette formation
Data Protection Administrations
Security Engineers
NetApp Partners
NetApp Employees
Objectifs
Describe the data protection features that are integrated into ONTAP 9 data-management software
Describe how to use SnapLock compliance software for data retention
Explain how to manage encryption keys
Explain how NetApp Storage Encryption (NSE) provides full-disk encryption (FDE) by using self-encrypting drives.
Explain how NetApp Volume Encryption (NVE) provides a software-based method to encrypt and protect data on any disk type.
Contenu
ONTAP Compliance Solution Administration describes the architecture and functionality of the integrated data protection compliance features and benefits in ONTAP 9 data-management software. You will learn SnapLock software, key management features and encryption technologies. You will learn the administration, configuration and management of the integrated data protection compliance features.
ONTAP Compliance Solutions Administration is intended for data protection administrators of any experience level.

Module 1: Compliance Solutions
Data Compliance
Challenges

High availability
Backup and archive
Disaster recovery
Compliance
Cloud integration

Data compliance types

Data retention
Data encryption

Data protection solutions
Compliance features
Module 2: ONTAP Data Retention
SnapLock compliance software

SnapLock Compliance
SnapLock Enterprise

SnapLock architecture

Compliance clock
Clock architecture

SnapLock compliance volume
SnapLock enterprise volume
File types

Regular
WORM
WORM appendable

SnapLock settings verification
Protecting SnapLock volumes

Snapshot copies
Replication
SnapVault

Advanced SnapLock features

Privileged delete feature
Audit log
Compliance administrator account
SnapLock APIs
Module 3: ONTAP Key Management
Key management

Centralized key management
Compliance with mandates
Investment protection
OKM
External Key Server (KMIP)
Setup wizard
Module 4: ONTAP Data Encryption
Storage encryption solutions
ONTAP 9.1

NetApp storage encryption (NSE)
NetApp volume encryption (NVE)
NetApp SANtricity full disk encryption (FDE)

FIPS security levels
Volume encryption demonstration

License
OKM setup
OKM backup
Node keys
Create encrypted volume
SVM key
Volume key
Encrypt existing volume
Decrypt volume
Move encrypted volume
Re-key encrypted volume
Delete
LABS:
Configure SnapLock for file retention
Create aggregates that are compatible with SnapLock software
Create SnapLock volumes
Create SnapLock volume shares
Manage a SnapLock enterprise volume
Manage a SnapLock compliance volume
Create a cluster peer relationship
Create an SVM on cluster2
Create an SVM peer relationship
Create a SnapLock for SnapVault protection relationship
Manage source and destination volumes
Manage a SnapLock for SnapVault relationship
Create an audit log
Create a compliance administrator account
Enable the privileged delete feature
Delete WORM files by using the privileged delete feature
Configure the onboard key manager
Display the key management backup information
Verify the creation of encryption keys for each node
Formation en salle équipée
Durée 1 jour
Agenda
Délai d'accès – inscription possible jusqu'à la date de formation
Instructor-led Online Training: Cours en ligne avec instructeur
Formation en mode
FLEX
, à la fois à distance et en présentiel. Tous nos cours
FLEX
sont aussi des ILO (Instructor-Led Online).