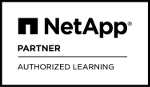 Data ONTAP SAN Implementation (SANIMP)
Moyens Pédagogiques :
Réalisation de la formation par un formateur agréé par l'éditeur
Formation réalisable en présentiel ou en distanciel
Mise à disposition de labs distants/plateforme de lab pour chacun des participants (si applicable à la formation)
Distribution de supports de cours officiels en langue anglaise pour chacun des participants

Il est nécessaire d'avoir une connaissance de l'anglais technique écrit pour la compréhension des supports de cours

Accessibilité aux Personnes en Situation de Handicap – nous contacter
Moyens d'évaluation :
Évaluations formatives pendant la formation, à travers les travaux pratiques réalisés sur les labs à l'issue de chaque module
Évaluation sous forme de questionnaire à l'issue de la formation
A qui s'adresse cette formation
Professionals who implement SAN solutions that use NetApp storage systems
Certifications
Cette formation prépare à la/aux certifications:
Pré-requis
Certification as a NetApp Data Management Administrator
Completion of two courses:

SAN Fundamentals on Data ONTAP WBT
Objectifs
By the end of this course you should be able to:
Define and describe SANs that use FC, FCoE, and iSCSI protocols
Configure Windows Server 2012 R2, Red Hat® 6.5, and Data ONTAP® systems for iSCSI connectivity
Configure Windows Server 2012 R2, Red Hat 6.5, and Data ONTAP systems for FC and FCoE connectivity
Use FC and iSCSI protocols to create and access LUNs from Windows Server 2012 and Red Hat 6.5 systems
Create and access a LUN from Windows Server 2012 and Red Hat 6.5
Size, clone, copy, move, back up, and recover LUNs on Windows Server 2012 R2 and Red Hat 6.5 systems
Troubleshoot SAN connectivity and performance issues
Suite de parcours
Contenu
In this workshop course, you learn how to connect Windows® and Linux® hosts to NetApp® SANs via FC and iSCSI protocols.
Module 1: SAN Concepts
NetApp SAN
SAN Protocols
SAN Terminology
Implementing SAN
Designing and Planning a SAN Solution
Module 2: IP SAN Architecture
IP SAN Architecture
iSCSI Protocol
Implementing IP SAN on Data ONTAP
Scaling IP SAN In clustered Data ONTAP
Module 3: Windows IP Connectivity
Windows iSCSI Configuration
Windows iSCSI Implementation
Module 4: Windows LUN
LUN Access Overview
Windows Setup
Volume Management
SnapDrive for Windows
Module 5: Linux IP Connectivity
Linux iSCSI Configuration
Module 6: Linux LUN
LUN Access Review
Linux Setup
Volume Management
Module 7: FC SAN Architecture
FC SAN Architecture
FC SAN Connections
FC Protocol
Module 8: FC SAN Fabrics
Fabric Design
FC Initialization
Switch Concepts
FC Zoning
Scaling FC SAN in clustered Data ONTAP
Module 9: Windows FC Connectivity
Windows FC Connectivity
Data ONTAP 7-Mode CF Modes
Windows Configuration
Discovery and Provisioning
Module 10: Unified Connect
Unified Connect
FCoE-Enabling Technologies
End-to-End FCoE Configuration
FC-to-FCoE Connectivity
Module 11: Linux FC
Linux FC Configuration
SnapDrive for Unix
Module 12: LUN Provisioning
LUN Provisioning
LUN Overwrite Reservations
SAN Provisioning Options
HOST-Side Space Management
Keeping LUNs Online
Module 13: Host Considerations
Common Disk Structures
Multipathing
Clustered Data ONTAP Path Changes
Selective LUN Mapping in Clustered Data ONTAP 8.3
Queue Depth
Module 14: SAN Management
Port and Logical Interface Management
LUN Management
LUN Mobility
Copy Offload
LUN Cloning
Protecting a LUN
Removing a LUN
Module 15: SAN Troubleshooting
SAN Troubleshooting
Data ONTAP Troubleshooting
NetApp Data Center Tools
Appendix A: Windows Miscellaneous
Windows Server 2012 CLI
Windows Server 2012 Server Core
Dynamic disks
Appendix B: Brocade Configuration
Fabric OS
Management IP address configuration
Setting configuration
Zone configuration
Appendix C: Cisco Configuration
NX-OS
Initial configuration
Port configuration
Zone configuration
Appendix D: Scalable SAN Failover
SAN architecture
SAN operations
CLAM quorum
Epsilon administration
Appendix E: SAN Migration
New Features Addendum: ONTAP 9.1
ONTAP 9 introduction
ONTAP 9.1 highlights
12-node SAN clusters
Simply anywhere
OTNAP select
OnCommand management portfolio
SAN management enhancements
All Flash FAS
SnapCenter 2.0
9.1 hardware refresh
Labs
Verify the cluster from the CLI
Verify the cluster from OnCommand System Manager
Use the NetApp OnCommand System Manager to create a data aggregate
Use the NetApp OnCommand System Manager to create a subnet for an SVM
Use the NetApp OnCommand System Manager to create an SVM for iSCSI
Set up Multipath I/O on Microsoft Windows Server 2012 R2
Install the host utilities kit on Microsoft Windows Server 2012 R2
Configure iSCSI sessions on Microsoft Windows Server 2012 R2
Confirm iSCSI sessions on the data ONTAP operating system
Create a local administrative account for NetApp software
Install NetApp SnapDrive for Windows on Microsoft Windows Server 2012
Create a Window iSCSI disk with SnapDrive for Windows
Verify the Linux configuration
Install the NetApp Linux host utilities on your Linux system
Configure the iSCSI software initiator for Linux
Confirm the iSCSI connections
Enable the Linux native multipathing
Create iSCSI-attached LUNs for Linux
Discover iSCSI-attached LUNs for Linux
Prepare an individual LUN and mount it on Linux
Configure an LVM2 logical volume
Review key FC concepts
Investigate the initial switch configuration
Configure FC HBAs on a storage system
Configure an SVM for FC connectivity
Install QLogic FC tool on Windows 2012 R2 system
Enable FC HBA ports on a Windows 2012 R2 system
Assign aliases to WWPNs on a storage system
Provide LUN access by using the CLI
Create a Windows volume by using FC-attached NetApp LUNs
Create a VLAN on the switch
Configure a target FCoE port on the switch
Configure an initiator FC port on the switch
Set up one-to-one zone mapping between the initiator and target port
Install SnapDrive for Linux
Create a LUN by using SnapDrive for Linux
Use SnapDrive for Unix to recover data
Create an FC-attached LUN with system manager
Create a Snapshot copy of a LUN
Observe the effects of writing to a LUN
Observe the effects of deleting data from a LUN
Observe the effects of overwriting to a LUN
Observe the effects of setting a Snapshot automatic deletion policy
Review the key host considerations
Examine FC HBA port configuration
Expand and shrink a LUN
Clone a LUN for Windows
Copy and move a LUN
Remove a LUN from Windows
Reset the storage HBAS to initiator mode
Download nSANity
Examine nSANity commands
Collect system data
Viewing nSANity files
Formation en ligne
Durée 3 jours
Formation en salle équipée
Durée 3 jours
Agenda
Délai d'accès – inscription possible jusqu'à la date de formation
Date garantie: Fast Lane s'engage à mettre en œuvre les formations garanties quelque soit le nombre de participants, en dehors des cas de force majeurs ou d'événements exceptionnels, comme un accident ou un maladie de l'instructeur.
Formation confirmée sous réserve d'une personne supplémentaire.
Instructor-led Online Training: Cours en ligne avec instructeur
Formation en mode
FLEX
, à la fois à distance et en présentiel. Tous nos cours
FLEX
sont aussi des ILO (Instructor-Led Online).
Français
Fuseau horaire: Heure normale d'Europe centrale (HNEC) ±1 heure
Anglais
Fuseau horaire: Heure normale d'Europe centrale (HNEC) ±1 heure
Italien
Fuseau horaire: Heure normale d'Europe centrale (HNEC) ±1 heure
Allemand
Fuseau horaire: Heure normale d'Europe centrale (HNEC) ±1 heure
Polonais
Fuseau horaire: Heure normale d'Europe centrale (HNEC) ±1 heure